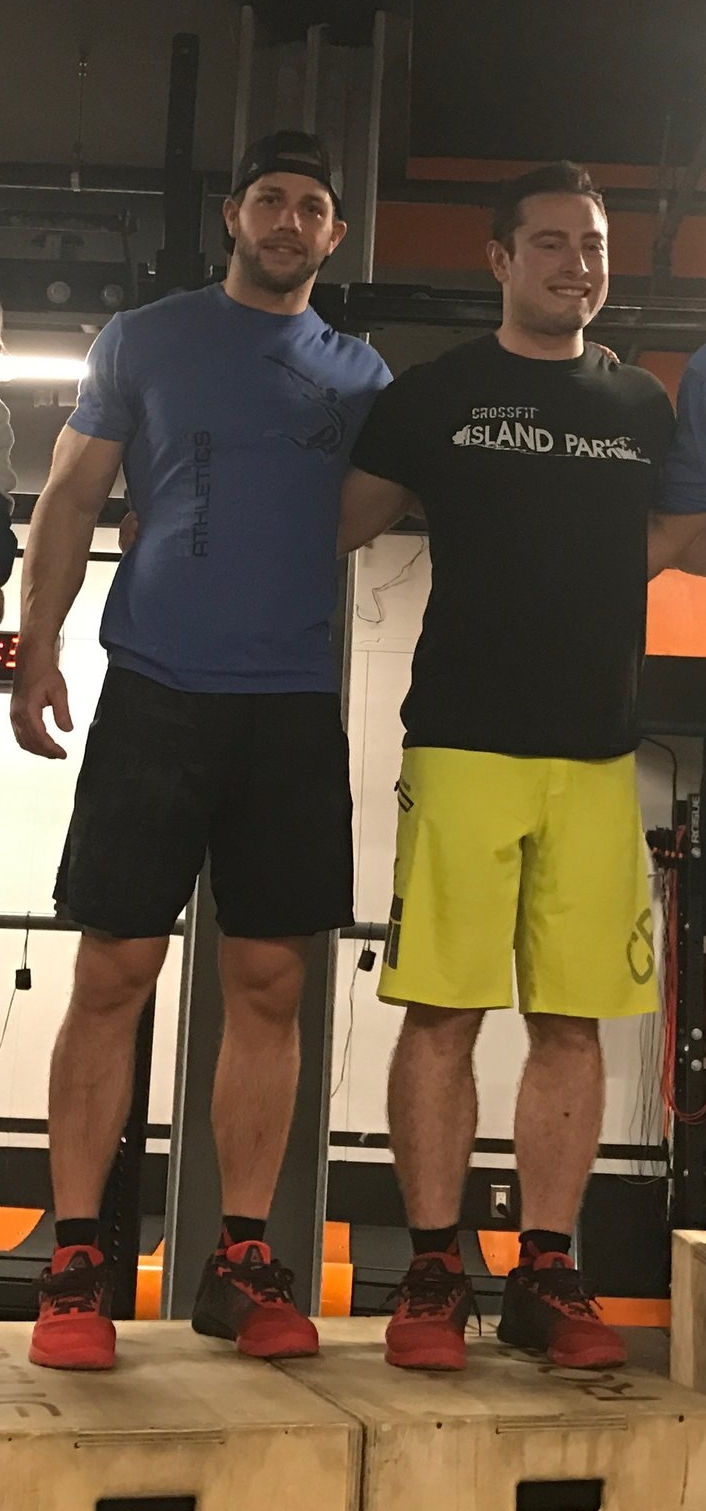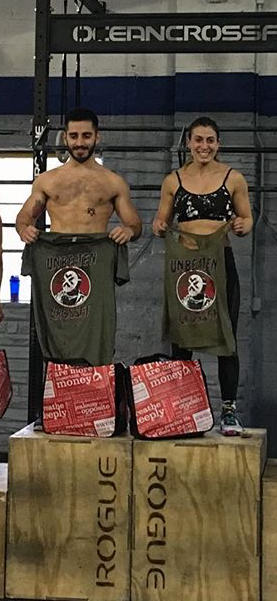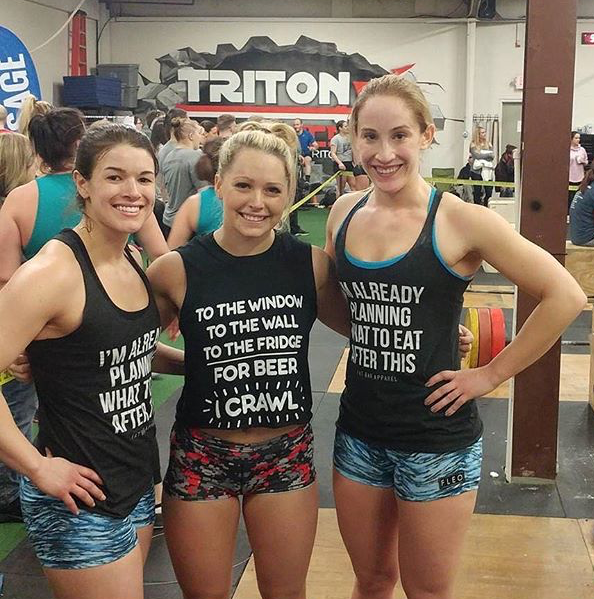 Congrats to all our athletes who competed over the weekend!!
Left: Coach Rob Moloney & Mike Hyland (2nd Place at CrossFit Brick "Midtown Throwdown")
Center: Nikki Berger (1st Place at Ocean CrossFit "Winter Wipeout")
Right: Donna Skoczylas & Julia Brokaw (CrossFit Triton "Winter Throwdown")
Another member, Colleen Riordan pictured with them.

Make sure you sign up for our Open Team Competition. It is a friendly in-house way to have some competitive spirit. We would like you to sign up by February 6th so that we can put the teams together and order the shirts and tanks. Please direct any questions to Coach Rob M.

Also,
Our January Spotlight Athlete is Michelle Vella. Check out her Q&A http://www.activelifeathletics.com/member-spotlight/

-----

Monday January 30, 2017
CROSSFIT
WARM UP
10m Lunge with Twist
20 Pogo Hops
10m Duck Walk
10 Jumping Air Squats
10m Forward Crab Walk
10 Ring Rows
20 second L-Hang/Tuck Hold

STRENGTH
Front Squat 4x10@60%

WOD
AMRAP in 12 minutes:
15 Wall Balls (20/14)
3 Rope Climbs
30 Double Unders

*Goal is to stay unbroken through Wall Balls and Double Unders and keep a steady pace on the rope climbs. Rope Climbs should not take more than a minute to complete each round. Scale to fewer rope climbs OR 6 Ring Rows at a high level of difficulty OR 6 Strict Pull Ups.

-----

FITNESS
WARM UP
10 Boot Straps
10 Squat Thoracic Rotations
5 Inch Worm Push Ups
30 second Pronated Hang
10 T Push Ups
FOR QUALITY
4 rounds:
5 KB Straight Leg Deadlifts with 5 second Negative
10 KB Squat Press Outs
10 Lemon Squeezes
WOD
AMRAP in 10 minutes:
21 KB Swings (53/35)
15 Wall Balls (20/14)
9 Burpees

-----
Tuesday January 31, 2017
CROSSFIT
WARM UP
Row 20/15 Calories
10 Boot Straps
10 Arm Circles each way
20 Toe Touches
10 Lemon Squeezes
10 Arch Rocks
10m Burpee Broad Jump

With an empty barbell:
5 Clean Lift Offs
5 Muscle Cleans
5 Power Cleans w/ pause in catch
5 Push Press
5 Push Jerks
5 Clean and Jerks

IWT
Part 1
EMOM for 9 minutes:
A-Row 20/15 Calories
B-Max Clean and Jerks (95/65-135/95-185/115)
C-Rest

-rest 4 minutes-

Part 2
21-15-9
Burpees
KB Swings (53/35)

Rest 3 minutes

15-12-9
Burpee Box Jumps
KB Swings (70/53)

Part 3
3 rounds for Quality:
120m 1 Arm Carry
30 second Hollow Hold

*The barbell in Part 1 shoulder start off extremely light. The last barbell will be challenging to cycle, but not a weight you should worry about missing. Scale accordingly. Your rest is still 5 minutes before Part 2, but 1 of the minutes is included in the EMOM.
For Part 2, there is a 7 minute time cap on each part. If you finish under the cap, rest the remainder of the 7 minutes.

-----
FITNESS
WARM UP
150m Straight Leg Row
10m Inch Worm Yoga Push Up
10 Arm Circles each way
10 Pike Shoulder Taps
10 Beat Swings
EMOM for 12 minutes:
A-8 1 Arm Press each arm
B-8 Strict Pull Ups
C-8 Upright Rows
D-40m Double Arm Farmer Carry

WOD
5 Rounds:
30 Double Unders
8 Ring Rows
8 RIng Dips
16 Sit Ups

-----

Wednesday February 1, 2017
CROSSFIT
WARM UP
2 minutes Assault Bike

-3 rounds-
16 1 Arm High Pulls each arm
5 Lateral Box Step Ups each leg
10 second Hanging Arch Hold
10 second Hanging Hollow Hold

SKILL
Ring Muscle Ups
10 minutes of practice:
Ring Rows
Ring Dips
Ring Support Holds (top/bottom)
False Grip Hangs
Kips on Rings
False Grip Pull Ups
Low Ring Transitions
Banded Low Ring Transitions
Muscle Up Negatives
Jumping Muscle Ups
Kipping Muscle Ups
Strict Muscle Ups

WOD
1500m Assault Bike
-then-
40 Back Rack Lunges (135/95)

*Fight to keep the barbell moving as long as possible. The weight should be manageable to do large sets. This will be a struggle and a mental test just as much as physical.
-----

FITNESS
WARM UP
10m High Knees
10m Butt Kicks
10m Straight Leg Swings
10m Samson Lunge
10m SIde Shuffle
10m Karioka
10m Broad JUmp High JUmp

FOR QUALITY
3 rounds:
10m 1 Arm Waiter's Walking Lunges
8 Suitcase Deadlifts each arm
3 Broad Jumps for Max Distance

WOD
AMRAP in 15 minutes
10 1 Arm Russian Swings each arm (53/35)
10 Box Jumps (24/20)
20 Alternating Step Ups

-----

Gymnastics (6pm)
Warm Up:
10 Candlestick + PVC pass through
10 HS scapula rolls
30 sec R & L leg wall split
10 HS frog to tuck
Wrist stretch
Skill: Handstand Walk
Shoulder warmup: : Handstand box work: from pike walk hands out to hollow body position. Walk hands back in and perform 1 HSPU. Continue climbing ladder to 5 reps then go back down.
1. Review gymnastics lunge. Shift body and focus on heel drive.
2. Learn to shift body in handstand and maintain balance.
Practice 10 HS shoulder shrugs against wall.
Practice 10 shifts to right and left against wall.
Drill 1: partner PVC handstand hold. Focus on balance and shifting your weight.
Drill 2: HS against wall, move marker to midline then back to hand. Scale with box.
Drill 3: Lateral wall walks.
Drill 4: Wall facing one arm handstand hold. Straddle legs and slowly lift one arm, shifting weight to your posting arm.
Drill 5: Box handstand hold. Try to stay inside the box while in a free standing handstand.
5 min: Establish a max distance handstand walk or practice partner wall walk!
5 min: Obstacle handstand walk, either free standing or against wall.
WOD
AMRAP 12
10 man makers
20 pistols (scale up to weighted)
30 DUs

-----
Thursday February 2, 2017
CROSSFIT
WARM UP
10 Squat Thoracic Rotations
10 T Push Ups

With a PVC:
10 Pass Throughs
10 Rotations each way
10 Squat Pass Throughs

With an empty bar:
5 Snatch Lift Offs
5 Muscle Snatches
5 Behind the Neck Press
5 Behind the Neck Push Jerks
5 Snatch Balance
5 Full Snatches

STRENGTH
Snatch
A. 3 sets:
1 Snatch Above Knee+
1 Pause Snatch+
1 Full Snatch +
1 Overhead Squat

Build up to about 60%.

B. EMOM for 8 minutes:
2@75% of 1RM

WOD
AMRAP in 10 minutes
15 Bar Facing Burpees
12 Overhead Squats (115/75)
9 Box Jumps
 
The weight on the Overhead Squats should be manageable for 12 unbroken to start. Keep a steady pace on the Burpees that allows you to pick the bar up quickly. Quality over weight and speed on the Overhead Squats.
-----
FITNESS
WARM UP
WOD 1
3 rounds
In 3 minutes:
Row 20/15 Calories
20 Air Squats
WOD 2
50/35 Calories Assault Bike
-then-
3 rounds:
12 Goblet Squats (70/53)
3 Rope Climbs
10 Burpees to 6" Target

------

Friday February 3, 2017
CROSSFIT
WARM UP
Row 250m
10 Beat Swings
10 1 Leg Toe Touches
5 Inch Worm Hollow Holds
10 Arch Rocks
10 Lemon Squeezes
SKILL
EMOM for 6 minutes:
5-10 Toes to Bar

Scale options:
Beat Swings
PVC V-Ups
Knee Raises
Knees to Elbows
Toes as High as Possible
Toes to Dirty South Bar (triangle bar)
Strict Toes to Bar

WOD
Row 800m
-then-
30-20-10
Deadlifts (135/95)
1 Arm Russian Swings (53/35)
 
This is a light deadlift that should be cycled quickly. Grip will become the factor as opposed to weight. Swings must be evenly split between arms, but rep scheme can vary. Alternate each rep, 5/5, 10/10, however you see fit.

------

FITNESS

WARM UP
Row 15/12 Calories
10 Pause Air Squats
20 Toe Touches
10 Tuck Jumps
5 Inch Worm Push Ups
10 Beat Swings
WOD
TEAMS OF 2:
AMRAP in 20 minutes:
100 Calorie Row
80 Wall Balls (20/14)
60 KB Swings (53/35)
40 Box Jumps (24/20)
20 Burpees
10 Pull Ups

-----

Saturday February 4, 2017

8AM FITNESS

WARM UP
2 Rounds of:
10 Calorie Row
10 Squat Thoracic Rotations
10 Beat Swings
10 Inchworms
10 Hip Down Push-Ups
10 Ring Rows
10 Pause Air Squats

WOD
"ROWING CINDY"
AMRAP in 20 minutes
5 Pull Ups
10 Push Ups
15 Air Squats
E2MOM
10/8 Calorie Row

Stagger start 1 minute

-----
9AM OPEN PREP
with Coach Rob
Warmup:
500m Row at a moderate pace
10 Squat Thoracic Rotations
10 Beat Swings or Ring Swings
10 Inchworms
30 Second Squat Hold
10 Pike Shoulder Taps
10 Kossacks
10 Pause Air Squats
1 Minute Jumping Rope

WOD

Open 13.3

12 Minute AMRAP

150 Wall Balls (20/14)
90 Double Unders
30 Ring Muscle Ups


We have been putting in a lot of time to work on all three of these movements.
Wall balls are more mental than physical. Be positive in your self talk and you will surprise yourself.
In your mind, you want to keep your count low for wall balls and double unders. This will help keep your rythym and keep your focus.
As for muscle ups, this is a great opportunity to see how we can work under fatigue.


Scale for MU:
Option 1: 30 Burpee Pull-Ups
Option 2: 30 Ring Rows + 30 Ring Dips
Or ask your coach another scale.
-----

Sunday February 5, 2017
Super Bowl Sunday
Long Beach Polar Bear Challenge

WARM UP
10m High Knees
10m Butt Kicks
10m Straight Leg Swings
10m Lunge with Twist
10m Side Shuffle each way
10m Karioka
10m Broad Jump High Jump

WOD
EMOM for 24 minutes:
A-40 seconds Max Calories Assault Bike
B-16 Box Jump Overs (24/20)
C-30 Sit Ups
D-Rest
 
Partners work together on the same movement. Split any way.